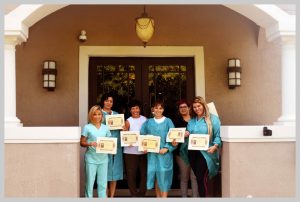 We are committed to providing the highest quality of learning and professional training in permanent makeup and corrective cosmetics to help you begin or improve your career.
We are dedicated to the advancement and empowerment of the permanent makeup professional by promoting and providing high quality, hands-on educational certification programs in order to develop mastery of skills, delivery of safe and effective services.
Our primary goal has always been to maintain high standards in our training programs and to offer fair and competitive pricing without diminishing our high standards.
Great opportunity to increase your income.
Marketing tips and advice on how to build your business.
Fundamental & advanced classes
In-depth coverage of many techniques and procedures.
Online training is available.
Apprentice ship classes available.
Continuous support and training.
Learning more then 1-2 techniques.
We have training available for all basic and the most modern techniques and procedures on today's market. We are offering broad range of classes; accommodating students that entering new carrier and the ones that expending their carriers.
Hands-on practice on live models.
Live Models provided
Personal attention to every student.
Microblading Kit & Permanent Makeup QUALITY Machine included.
Certification immediately upon completion of the class. We don't leave our students hanging or put them through a difficult online process of many steps. We encourage them to start practicing in the real world as soon as they feel ready.
Quite often we are contacted by business owners for employees' referrals and we happy to be able to assist our students with work placement when we can.
Our classes are never overcrowded
Vesta Academy maintains its high standards by having a small student to instructor ratio – a one on one experience.. Every hands-on practice is carefully supervised by instructor.
At Vesta Academy, we do not treat you as one more number, every student is part of our family.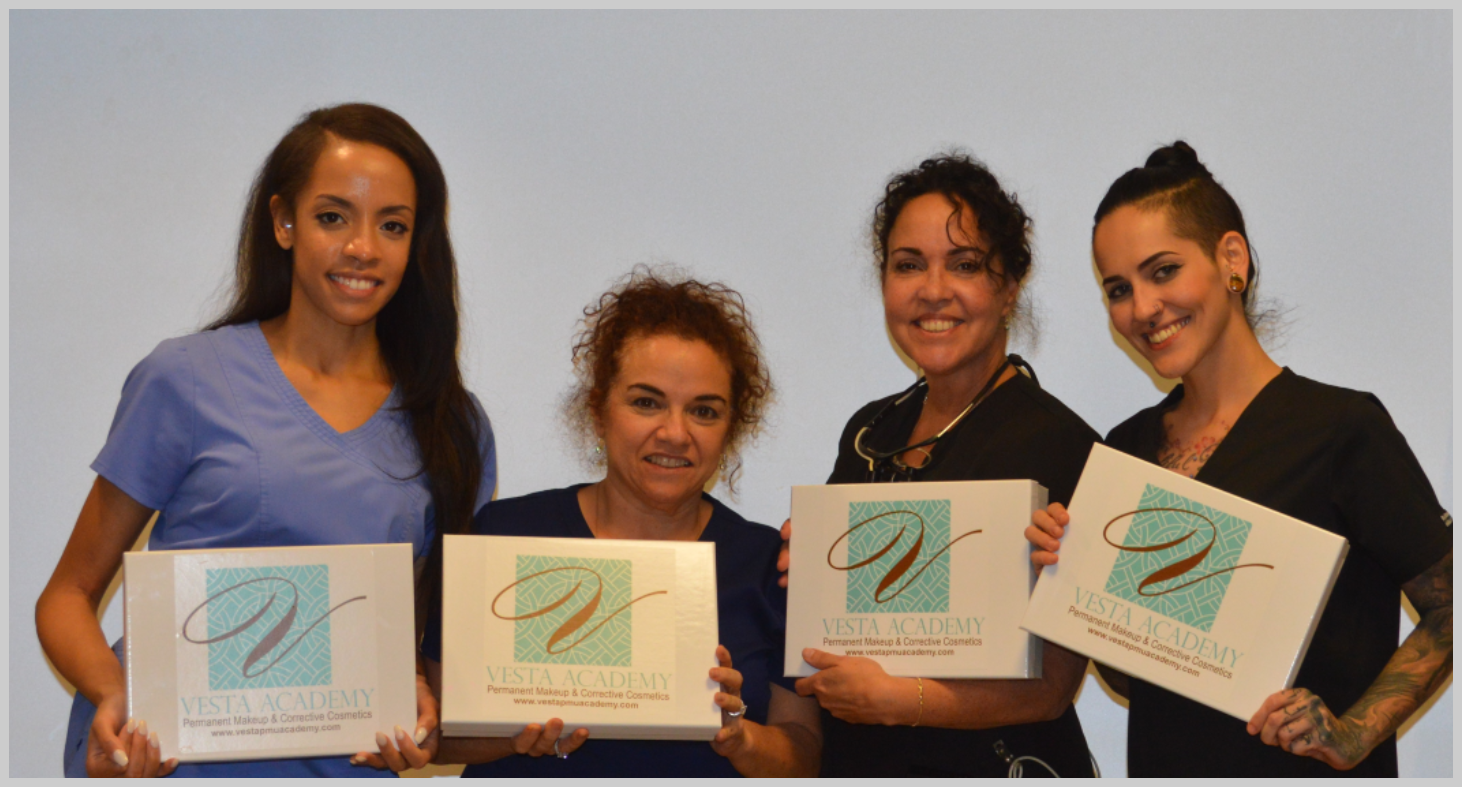 Choose Vesta Training with a wide range of Techniques
Don't limit yourself, Become a True Professional
Microblading
Digital strokes
Ombre Shading
Powdery Brows
Combination of different techniques
Corrections
Eyelash liners
Different Design Eyeliners
Lipliners
Ombre lip color
Blush lips color
Full Lipstick Color
Areola restoration
Scalp pigmentation
Scar Camouflage
Different colors combinations for eyeshadows
Unique Opportunity to Try Different Equipment
Because different companies represent their distributors' interests, it can be overwhelming for beginners to pick the right machine . At Vesta Academy we  introduce to our students a variety of tools and pigments. Students will be able to compare and learn what the advantages and disadvantages are among different machines. During our classes, students have the unique opportunity to learn and try out some of the most popular brands of cosmetic tattooing machines in the industry. This allows students to make a decision prior to making a financial investment. These machines include some of the most popular brands, such as:
Cheyenne
Skin Master
NouverContur
Xion
Ultra
Coil Machines
Continuing Education
We are here for you for as long as you need us.
At Vesta academy, we care about our students and we want them to be successful.
We offer variety of options for Continuing education and apprenticeship classes.
Everyone learns at a different speed, some are more confident, and some have a softer touch. Because we are an established institution, we are able to offer our students continuing education classes on the individual students' schedule. This is something that can not be offered by travelling trainers. Students are able to return to learn new techniques or improve their skills on their choice of time. You don't have to wait, you can schedule the next step of your education when ready. Some of the Vesta Academy fundamental courses  include apprenticeship program.
We encourage our students to choose their training carefully
BE AWARE!
Inexperienced Trainers
Due to the lack of regulations, trainings are offered by technicians that don't have the fundamental knowledge of permanent makeup or an appropriate amount of experience working with clients.
This is not fair to the students, because they would not be getting an expert trainer.
BE AWARE!
Only one technique  is not enough
There are many courses on today's market promoting only one or two techniques.
Microblading and manual techniques are a part of the art of permanent makeup. Many clients are not necessarily good candidates for Microblading technique. Therefore, as a professional, you should be able to offer different cosmetic solutions and not turn down potential clients due to lack of knowledge.
BE AWARE!
Microblading trainers 
Trying to catch up with the rest of the permanent makeup industry, many microblading trainers start offering classes for new techniques and procedures while learning themselves on the go. 
Just because they may be knowledgeable at training microblading, it does not automatically mean that they can train other techniques and procedures well without having any prior experience themselves. Machine procedures for brows, eyeliners, lip color and paramedical are different from Microblading and manual techniques.
When doing your research, always ask your trainer how much experience she/he has on working certain procedures on clients prior to starting to train others.
Unfortunately, the industry is poorly regulated, and students can be misled easily. It is a good indication of professional training when an academy has been offering a wide range of techniques and procedures for a long period of time.
Because Vesta Academy was founded by highly experienced professionals, we have offered courses in all procedures from the start.
BE AWARE!
Many programs are limited to only online support
There are many long distance traveling trainers that can only provide online distance support. You do need to be able to have personal contact with your trainers when you need it. You should be able to book additional one-on-one classes with your original trainer if you need more supervised hands-on practice.
BE AWARE!
Overcrowded classes.
We receive many complaints from students that classes they have attended to in the past were overcrowded, and that during their hands-on practice they did not receive sufficient one-on-one supervision.
BE AWARE!
Many training academies choose poor quality equipment. Good training should introduce students to different brands of quality machines. Don't limit your knowledge to the interests of biased distributors only.
How To Choose A Good Training Course?
Permanent Makeup Artistry is a very challenging and rewarding career. This artistry allows you to significantly enhance facial features of your clients, specifically brows, eyeliners, and lips. It is continuously expanding and embracing other medical specialties, healthcare providers, and non-medical practitioners. Treatments for nipple reconstructions, burn victims, scarring is valuable cosmetic solutions for the application of micropigmentation. Regardless of what procedures you would want to focus your carrier on, your new profession comes with a heavy responsibility of impacting clients appearance and lives.
You don't want to compromise the start of your new carrier with poor training and deserve to receive the best possible training for your hard earned money.
But with so much out there, it can be overwhelming for beginners.
When starting your research some basic questions need to be addressed :
How many years of experience or how many procedures have your instructor has performed prior to training others?
What is the length of the instructor's working experience in a specific technique being trained?
Due to the lack of regulations on becoming a trainer, short courses are popping up everywhere. Driven by over-enthusiasm for profit many inexperienced technicians claim to be ready to train others.  Also be aware that some companies, in order to rapidly expand, hire inexperienced technicians as trainers.
If the instructor does not have adequate experience or is hesitant to reveal his or her working experience prior to becoming a trainer, be aware that you risking your financial investment in limited education.
Make sure that general experience in the beauty industry such as in hair, nails, esthetics is not misrepresented as experience in PMU. This information can be found through public records on line.
Someone claiming to be an instructor should have years of practice in offering procedures to the clients.
It is recommended to review instructor's practice not only as trainers, but also as successful PMU practitioners.
The instructor-artist should have a minimum of 5 years of full-time experience worth of a specific technique that is being offered for training. It takes time and practice to learn how to micropigment different types of skin and to experience issues that may occur based on each individual clients' physiques and needs.
That is the only way that a trainer is able to have the necessary experience to prepare you for appropriate training. The experienced instructor has a proper knowledge to be a good mentor.
How many days is the training ?
If you are a beginner you should be considering a course that last at least for 5 to 7 days with comprehensive agenda.
What is the class size ?
A smaller course would allow more of one-on-one instructor's attention and supervision. A good ratio is four to five students per class.
What is the support after class ?
Student should be able to contact instructor for any questions. Also it is very important for student to be able to book more one on one classes if need more hands on practice.
Practice with live models ?
Students should be able to have hand's on practice on live models during their training.
Online courses or practice on skin pads is a good practice but not a good substitute of hand's on practice of applying the right pressure on live model's skin with correct stretching. Live supervision of instructor during practice with the feedback to make adjustment and address concerns is the most effective training
Does it include a Blood Borne Pathogens course?
A good training course will cover this material during class hours with an addition to home study, so that students can take as much time as needed  to study this material properly before being evaluated on their knowledge.
How reliable your trainer ?
Make sure you can always reach out to your instructor directly. More likely your chances are better to have more personal tutoring with smaller size company.